Community Programs
We support our community by providing services to benefit those outside our students.
[ Anti-Bully Course | Girl Scouts | Basketball Team | Movie Nights ]
---
Anti-Bully Course
Grand Master, Tae M. Kwon and his Masters would like to assist schools in the area of bully prevention.  The Kwon's Hapkido School has been been providing a free parent workshop on bully prevention. An extension to the parent education component is a student workshop. There are many components in addressing bullying, which require a workshop to cover the topics. We offer a free bully prevention clinic 2-3 days a week for a two-hour no cost clinic each day.  These workshops are offered periodically though local schools.
Topics to be covered are:
• What is bullying and why kids bully,
• To teach kids what to do as a witness (bystander) to bullying,
• How to safely get help from an adult,
• Role Play common bullying situations to teach skills on what to say,
• How to avoid bullying situations, and
• How to protect themselves from any physical danger
Parents can sign up online and must transport their students to the studio.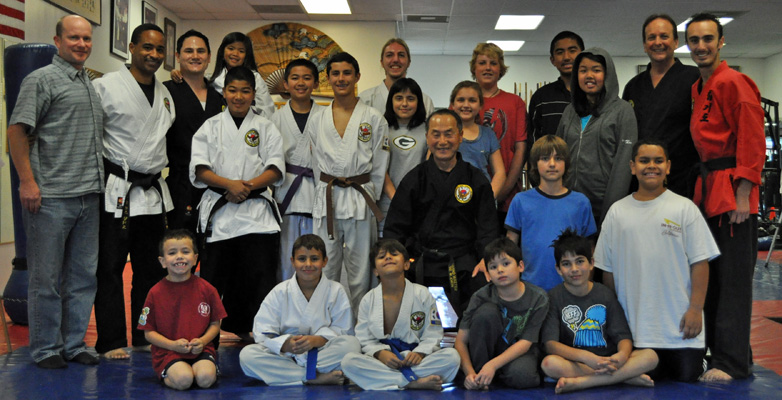 ---
Girl Scouts
Girl Scout Troop #14835 (front row) was given a special class in self defense at Master Kwon's Hapkido School.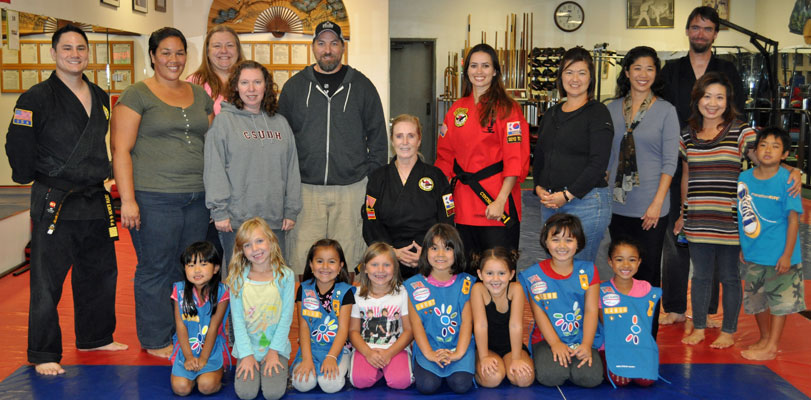 ---
Basketball Team
Torrance Park & Recreations basketball team was given a special class in how to fall safely by coach Evans at Master Kwon's Hapkido School.
---
Movie Nights, Sponsored by the Black Belt Association
Master Kwon's Black Belt Association hosts Movie Nights on selected Fridays, from 6:00 pm to 9:00 pm, and would like to invite all of our students! Both children & adults are welcome!!!
There will be great fun for everybody who attends, but we would especially like to take this opportunity to offer a much deserved Friday night out for parents wanting some alone time. We encourage you to drop your kids off with us and go enjoy some personal time for yourself.  Whether you need to get some errands done, would like to plan a date night out with your partner, or just want a couple hours of quiet time to yourself, you can rest assured that your loved ones are having a fun & educational time themselves in a safe environment that you already trust.
Itinerary:
5:30 pm - 6:30 pm: Special Hapkido Workshop (e.g., The Fundamentals of Snatches & Breaks)
6:30 pm - 7:00 pm: Pizza Time!
7:00 pm - 8:40 pm: Watch Movie (e.g., "The Karate Kid"), Rated: PG
8:40 pm - 9:00 pm: Clean-up
You are welcome to drop in and join us anytime on scheduled Friday evenings, for all of Movie Night's activities, or for just a part, whatever your schedule allows. Parents may drop off their children for the regular 4:00 pm class or anytime thereafter.
We provide Cheese, Pepperoni, & Combo Pizza options for dinner. Please let us know in advance if we need to be aware of any food allergies. Please also feel free to bring your own dinner/snacks, if you would like.