Fighting Families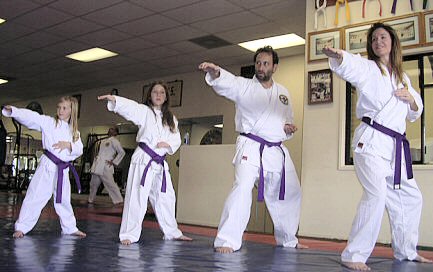 Family time, family safety: The Sachs family (left to right: Natasha, Tessa, Neal, and Nina) take a serious approach to self defense with Master Kwon's Korean Hapkido Karate.
The family that kicks together, sticks together? If the fighting in question is Korean Hapkido for self defense, the answer is yes. For the Sachs family (pictured above), Hapkido karate has fostered family togetherness and enhanced the personal safety of each family member.
For the price of a vacation, the Sachs family has so far completed a year of private lessons at Master Kwon's Korean Hapkido school in Torrance, California. Private lessons are naturally more expensive than group lessons, but Neal (dad) and Nina (mom) see the goal of personal security and confidence as more than worth it. "We would like our daughters - now ages 10 and 7 - to be black belts before they start dating," says Nina. She says this with a smile, but there is intensity behind her words. After all, women are assaulted and raped, men are robbed, and children are abducted every day in the United States. Unlike many families, the Sachs' have chosen to face these realities and take a serious approach to self defense.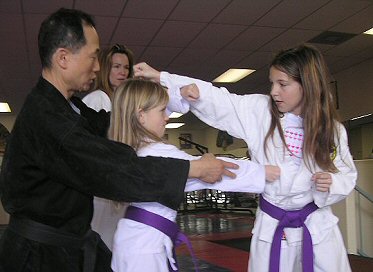 All students receive individual instruction from world renowned Hapkido Grand Master Tae M. Kwon.
Under the patient tutelage of world renowned 9th-degree black belt Tae M. Kwon, the Sachs have steadily gained confidence in their physical abilities while sharpening their mental toughness. Unlike recreational sports, Neal and Nina view Hapkido much like the obligation of grade school. "We have done soccer, softball, and other sports, but Hapkido is not optional. It is a good discipline to carry right through high school," says Neal. "Hapkido will give them the confidence and ability to know their space and know when someone is compromising their comfort zone."
Unlike many other martial arts, Hapkido focuses on practical defenses and attacks. The discipline incorporates grappling, striking, throws, breaks, and locks to swiftly disable opponents and end unpleasant confrontations. While there are no trophies to earn in Hapkido, the dedicated student receives something much more valuable - peace of mind.
Time to Learn
While some training is better than nothing, a true system of self defense requires repetition, practice, and time to digest each new technique. For the Sachs family and all of Master Kwon's students, there is a systematic progression of belt promotions that gradually increase in complexity and degree of difficulty.
Within the Sachs family, each person has a certain strength, weakness, or favorite technique. "Each family member takes ownership of a particular technique," says Neal, who has experience in both high school and college wrestling. "We focus on understanding the techniques and don't get caught up in the belts. The priority is for the girls - and all of us - to get skilled without being competitive. We all test for belts together and no child is ever left behind."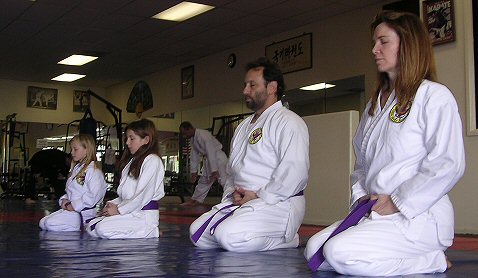 In the highly competitive martial arts hotbed of the South Bay, why do individuals and families continue to choose Master Kwon's school? The reasons vary, but in the end it comes down to the expertise and dedication of the instructors, starting with the example set by Master Kwon himself. Many studios are run like military boot camps with little room for fun, while others have a lack of discipline that leads to chaos. For the Sachs family and others, Master Kwon's school has the right combination of discipline, fun, and practicality.
Finding activities for the whole family is never easy in today's fast-paced world. The advantages for family involvement in Hapkido are two-fold: quality time together and self defense skills that last a lifetime. That's a powerful one-two punch.