Group Activities
[ Demo Team | Grappling Team | Sparing Team | Anti-Bully Course | Girl Scouts | Movie Nights ]
In addition to classes for adults, kids, families and private lessons, we also offer many different group activities.
---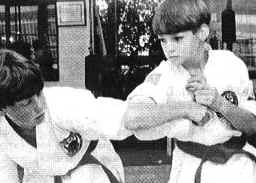 Traditionally, a Demonstration Team consists of only the very top students who show great ability, remarkable endurance, and an undying passion for the art of Hapkido, both in mind and spirit.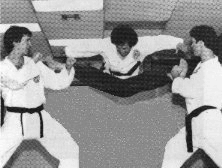 They represent themselves proudly and honorably in the art of Hapkido and as a student & representative of Grand Master Kwon's Hapkido Martial Arts School.
The students you see here are of an elite and honored class. Each Demo Team Program consists of 12 hard weeks of training, and is a completely separate program than their basic belt training.
The formation and growth of this team is, and will be, an on-going process, and they are the students of Master Kwon, who we believe possess all of the attributes that we hold dear to the beliefs and mission of our school.
We encourage all of our students to consider being a part of this great program and strive to obtain this new level of achievement in the pursuit of reaching a higher degree of proficiency & skill in such a challenging endeavor.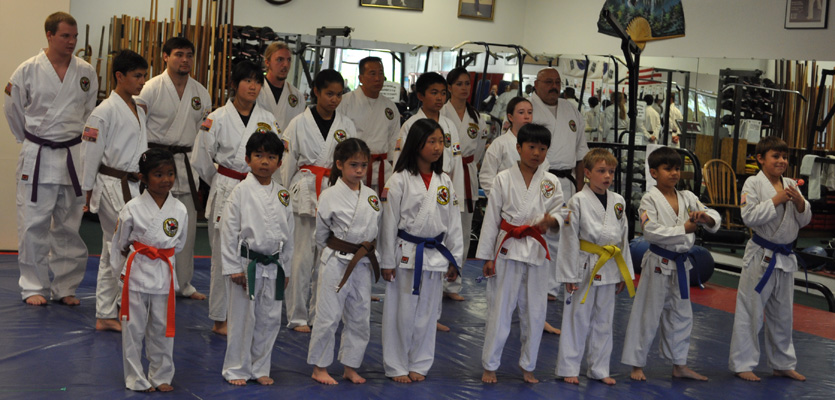 ---
Available to current students of all ages and belts levels. Students must make the commitment to attending all classes. No special gear required, however grappling gloves and a heavy-weight or judo gi are strongly encouraged.
The program includes the following:

Training on throws and take downs as well as defense from being taken to a ground position
Common ground position joint-locks and submissions
Developing a familiarity and confidence with being in ground positions
Hapkido based defense and counter-attacks against grappling techniques
Skills based test at the end of course
Upon completion of the course, a grappling team certificate and patch

12-week course / Tuesdays from 5pm-6pm
Open practices Fridays 5pm-6pm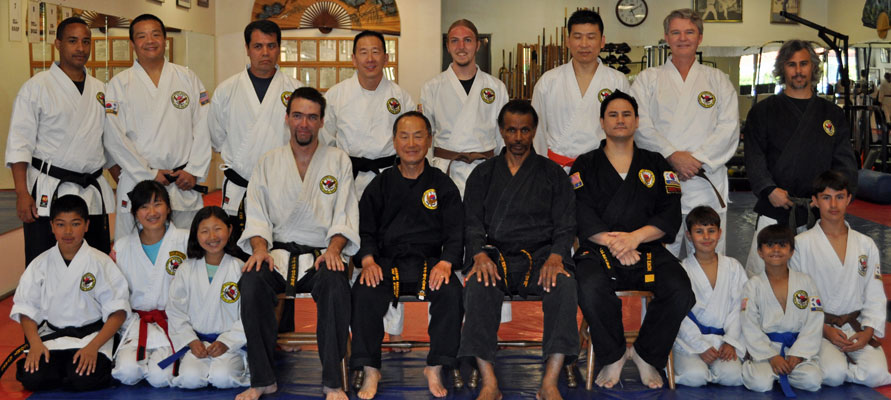 ---
Periodically we hold training for our Sparring Team. This is an 8 week course, held every Tuesday evening at 5 pm, and led by Master Bryan Fried. This course is designed to teach the student the fundamentals of Sparring, the application of fighting skills and an understanding of what works in different situations in a safe and controlled environment. Sparring gear is a MUST - mouth guard, gloves, foot protection, and groin cup (for males only), are required for this class. We will teach, review, and practice all aspects of sparring techniques and application. You do NOT need any prior experience or skills to take this class and all belt levels are welcome. Please remember, none of us are born with these skills, we must be taught and trained to learn them. We have created this class in order to provide a safe place to learn and practice them.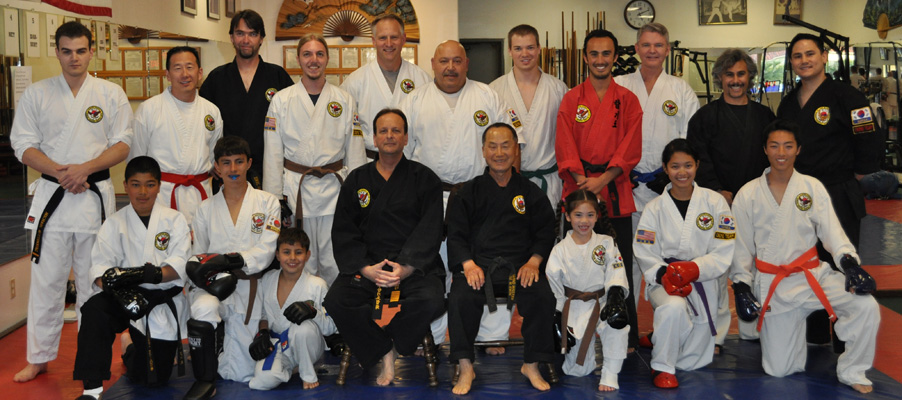 ---
Grand Master, Tae M. Kwon and his Masters would like to assist schools in the area of bully prevention. The Kwon's Hapkido School has been been providing a free parent workshop on bully prevention. An extension to the parent education component us a student workshop. There are many components in addressing bullying, which require a workshop to cover the topics. We offer a free bully prevention clinic 2-3 days a week for a two-hour no cost clinic each day. These workshops are offered periodically though local schools.
Topics to be covered are:
What is bullying and why kids bully,
To teach kids what to do as a witness (bystander) to bullying,
How to safely get help from an adult,
Role Play common bullying situations to teach skills on what to say,
How to avoid bullying situations, and
How to protect themselves from any physical danger
Parents can sign up online and must transport their students to the studio.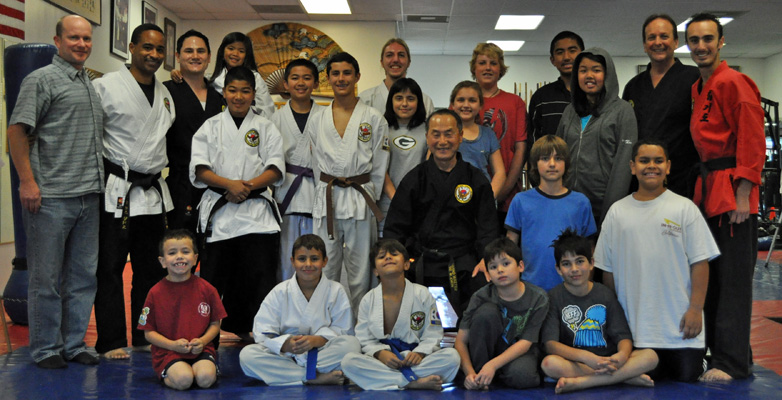 Girl Scout Troop #14835 (front row) was given a special class in self defense at Master Kwon's Hapkido School.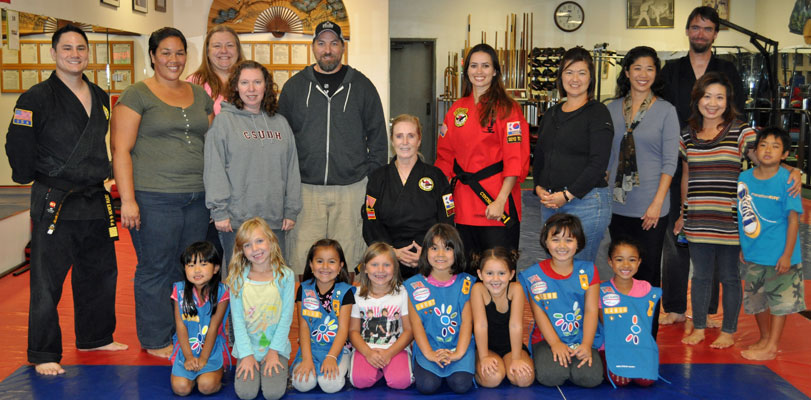 ---
Master Kwon's Black Belt Association hosts Movie Nights on selected Fridays, from 5:30 pm to 9:30 pm, and would like to invite all of our students! Both children & adults are welcome!!!
There will be great fun for everybody who attends, but we would especially like to take this opportunity to offer a much deserved Friday night out for parents wanting some alone time. We encourage you to drop your kids off with us and go enjoy some personal time for yourself. Whether you need to get some errands done, would like to plan a date night out with your partner, or just want a couple hours of quiet time to yourself, you can rest assured that your loved ones are having a fun & educational time themselves in a safe environment that you already trust.
Itinerary:
5:30 pm - 6:30 pm: Special Hapkido Workshop (e.g., The Fundamentals of Snatches & Breaks)
6:30 pm - 7:00 pm: Pizza Time!
7:00 pm - 9:20 pm: Watch Movie (e.g., "The Karate Kid"), Rated: PG
9:20 pm - 9:30 pm: Clean-up
You are welcome to drop in and join us anytime on scheduled Friday evenings, for all of Movie Night's activities, or for just a part, whatever your schedule allows. Parents may drop off their children for the regular 4:00 pm class or anytime thereafter.
We provide Cheese, Pepperoni, & Combo Pizza options for dinner. Please let us know in advance if we need to be aware of any food allergies. Please also feel free to bring your own dinner/snacks, if you would like.