Adult Evening Classes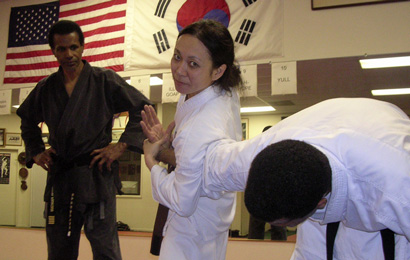 Fifth degree black belt Mel Fountain (left) looks on as brown belt Lilly Darmali Helin perfects a submission break technique at the night time adult class.
If you want the peace of mind that comes with knowing how to defend yourself, it may be time to do something about it. Fortunately for South Bay residents, the finest martial arts instruction is available (and affordable) at Grand Master Tae M. Kwon's Korean Hapkido Karate school in Torrance.
Adults and children seeking a comprehensive fighting style can opt for private lessons with world renowned Master Kwon (9th degree black belt) and/or group lessons.
Adults who wish to train exclusively with other adults may choose the nighttime group classes led by fifth degree black belt Mel Fountain (pictured above). While all students receive individual instruction from Master Kwon, Mr. Fountain runs the adult class and has been a mainstay in Master Kwon's dojang for 25 years.
On the recommendation of his brother (a Los Angeles police officer), Mr. Fountain first made the drive from his Inglewood home to Master Kwon's Torrance studio in the late 1970s. "My older brother said that sometimes you have to go out of your way to get what you want," says Fountain.
When he arrived, Fountain immediately saw that unlike many other martial arts, Hapkido focused on practical defenses and attacks. In action, the discipline incorporates grappling, striking, throws, breaks, and locks to swiftly disable opponents and end unpleasant confrontations. "The first time I saw Master Kwon, he demonstrated perfect technique, and he made it look natural. He was the first true Asian master that I had met," says Fountain. "Master Kwon is a legitimate master of Hapkido. If you are going to learn from someone, this is the man," says Fountain.
While he has taught students of all ages, Mr. Fountain focuses now on the adult night classes. An electrical engineer by day, the 57 year old Fountain favors the late class because it fits his work schedule. While earlier classes must keep to a strict schedule, an extra benefit of the night class is the added time that students get. While day classes must adhere to a set time frame, there are no such limitations at night. If you need extra help or merely want to discuss fighting philosophy, Mr. Fountain will often stay late for extra practice.
Mr. Fountain takes his lead from Master Kwon as a patient and thorough instructor. Like Master Kwon, he leads by example and strives to praise students, but not over praise them.
Why Hapkido?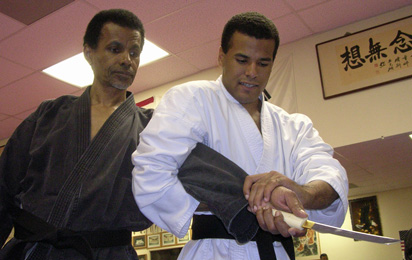 Mr. Fountain (left) and 17 year old 1st degree black belt Joshua M. R. Robinson practice an open hand defense against a knife attack.
"Many new students say they want to get in shape or have always wanted to learn martial arts," says Fountain. "The main motivation is they want to learn how to fight and they realize the efficiency of martial arts."
Like his students, Mr. Fountain started as a white belt with Master Kwon. Like Master Kwon, Mr. Fountain realizes that there are no short cuts to becoming an accomplished fighter. "The teaching philosophy is to get to where you can use your techniques with reflex action" says Fountain.
At the end of each class, students put on padded sparring gear and use the techniques they have learned. Sparring is intense yet controlled. As students progress with belt promotions, they gain confidence in their abilities. "There is never a guarantee that you will win a fight," says Fountain. "But by the time you get to green or blue belt, you should be able to handle most people on the street. Your odds of getting out of a difficult situation certainly go way up."